Affiliations and Partnerships
Organizations we work with for mutual benefit.
Bite-Back

We are proud to be associated with this extremely dynamic marine conservation charity, and will be donating 1.5% of the total of all bookings generated through the website to their cause in 2011.  To find out more about them please click on the logo.
Divemaster Insurance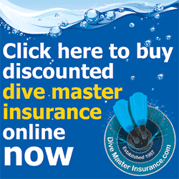 Good quality insurance is an invaluable companion in the diving world.  We partner with Divemaster Insurance to provide our customers with excellent policies designed for divers at discounted rates.  Divemaster are very well established and highly reputed within the industry.  To book an insurance policy with them at our discounted rates please click on the logo.
Riviera Sea School
We have a mutual recommendation deal with this extremely professional UK run RYA training school.  They run their Powerboat handling courses out of the same marina in Golfe Juan as us and would be more than happy to put you in touch with Sam and his team for any powerboat, jetski or yachting training requirements.
PADI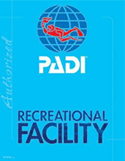 PADI or the Professional Association of Diving Instructors is the largest diver training organization in the world.  We rate the PADI system very highly.  The Open Water Course is the most recognized entry level diver qualification in the world and taught properly provides an excellent grounding. The opportunities to progress as a diver are brilliantly structured, and almost endless.
ANMP (Association Nationale des Moniteurs de Plongee)
This is a very well respected trade body in French diving, a CMAS and CEDIP member and has its own cursus of courses and associated insurance products.  It represents the industry extremely effectively, lobbying on important issues.  We're proud to be members.
BSAC

We are a British Sub Aqua Club approved Resort Centre.  BSAC is the main club system of diving in the UK.  This means we have a good understanding of the different certification levels of BSAC and are well able to integrate BSAC divers into the French system.  In addition to this we fulfill certain standards insisted upon by BSAC.
Worldwide Dive and Sail
Arguably the very best provider of luxury diving live-aboard diving in Asia.   We've had the pleasure of a tour of the original flagship of the WWDS fleet that will shortly be operating in the Maldives and she is a magnificent boat.  This company really know what they are doing and the other destinations they serve are Indonesia including Raja Ampat, Thailand and the Philippines.  To find out more click here.
Dive Advice Travel
If you are looking for that once in a lifetime trip to one of the best diving destinations in the world then Dominic at Dive Advice Travel is your man.  With a wealth of experience in selecting the best liveaboards at the best times of year in destinations as coveted as Cocos Islands, Indonesia, Galapogos, Papua New Guinea and Sudan to name just a few.  For more information please click here.