JOIN US ONBOARD THE NEW DOLCE VITA FOR A SOUTHERN RED SEA LIVEABOARD CLASSIC. BROTHERS, DAEDELUS AND ELPHINSTONE!
17TH TO 24TH NOVEMBER
After the success of our 2017 trip to Cap Vert this November we're running a Southern Red Sea liveaboard.  We'll be diving with well reputed and long established French operator Seafari on the Brothers, Daedelus and Elphinstone itinerary.  These three locations are legendary names in Red Sea diving for good reason.
ITINERARY, DIVE SITES AND DIVING CONDITIONS
The Brother Islands are among the best diving spots in the world, they are also an Egyptian national park.  The Islands –Big Brother and Little Brother – are two small exposed promontories jutting just out of the water, around 60km from the coast.  Little Brother has a very high concentration of life in a relatively small area.  The walls are covered with sponges, anemones and a huge diversity of hard and soft coral.  The density of fish life is very good.  It is not unusual to see sharks: hammerheads, thresher sharks, grey reef sharks, silvertip and whitetip reef sharks, depending on the season.  About one km north of Little Brother lies Big Brother.  A lighthouse is situated  in the middle of the island.  When it is not too windy, it is possible to dive the wreck of the NUMIDIA which lies on the northern side of the island between 5m and 80m.  This 150m long ship sunk in 1901 and is completely covered with hard and soft corals and gorgonias.  At the NW side of the island you will find the other wreck: the AIDA.  This 82m long steam ship sunk in 1957. The remaining pieces of the wreck are scattered all over the reef and just the back side of the hull can be found between 34m and 60m.  It is nicely overgrown and well worth a visit.  Because of strong current and the possibility of high waves it is not easy to dive at the Brother's.  This safari is only for experienced divers.
The Daedalus Reef (also a national park) is a huge reef formation that lies roughly 180km south of Brother Islands. The reef is surrounded by a sheer wall with a plateau on its southern side that drops from 28m beside the reef to 40m on the edge of the drop-off.  If the weather is good, try to get as far north as possible and drift along one of the sides of the reef.  Reef and hammerhead sharks are often spotted here. UW marine life is here more abundant than anywhere else, with schools of surgeons, fusiliers, and carangids.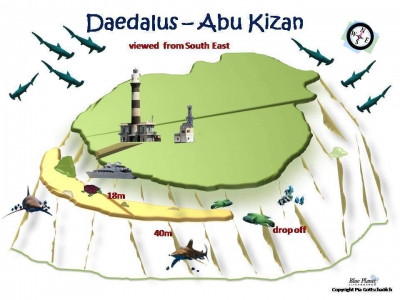 The Reef of Elphinstone, a truly legendary reef, is one of the most beautiful reefs in the Red Sea, with its north and south plateau, and the walls covered with soft corals, black corals, wire corals and gorgonias. Hammerheads, oceanic whitetip sharks and grey reef sharks can also be spotted here.
The Southern Red Sea of Egypt is slightly warmer than its northern counterpart.  Temperatures peak at 28-30°C between July and September.  After these months the temperatures drop a little to 27-28°C in October and November.  They continue from December to February to fall from 26-23°C. After the maximum low of February, temperatures warm up again from 24-27°C between March and June.
There are 2 windy seasons that can affect Red Sea liveaboard trip schedules.  The summer winds can blow from May to September, and the stronger winter winds can have negative consequences from October to April.  An element of chance comes into play when planning liveaboard trips in the south but usually dive cruises will be re-routed if the winds are too strong to sail on the originally planned routes.
In May and June oceanic whitetip sharks can frequently be seen in the St. John's area, and from October till the end of the year at Elphinstone and the rest of southern Egypt.  Thresher shark season occurs in the Autumn and Winter months around the offshore islands and reefs of the Brothers and Daedalus.  Hammerheads can be seen at Daedalus in the summer time when big congregations of females are attracted there.  Manta ray and whale shark season at St. John's, Daedalus and Brothers is European Spring time – April/May.
THE LIVEABOARD
The New Dolce Vita is currently undergoing a thorough refit with a series of improvements and modernisations, including a complete interior redecoration and expansion of the dive deck for more diver comfort.  It is 38 metres long and 8 metres wide and can accommodate 24 guests in twelve twin/double cabins.  It is equipped with a large shaded sundeck, dining and bar area and has a Nitrox compressor on board.  For more information about New Dolce Vita, please download this pdf.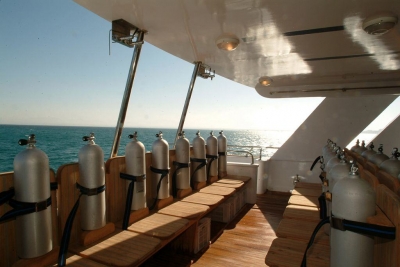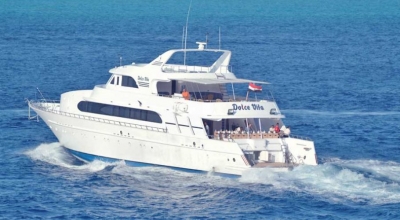 DIVER PREREQUISITES
For this trip a minimum certification level of Advanced Open Water or equivalent is necessary with a minimum of 50 logged dives.  The reasons for this are the conditions, including current that can be encountered at many of the dive sites on the itinerary.
PRICE AND PACKAGE
The price is €1750 which includes the following:
Return flights from Paris, arriving at Marsa Alam and returning from Hurghada
Transfers between boat and airport
6 days on board full board
Non-alcoholic drinks
Nitrox
7 nights sharing a twin or double cabin with private bathroom
Minimum of 16 dives including night dives with 12 litre aluminium tank and weights supplied
(the liveaboard starts with dinner prior to departure and ends with breakfast the day after return to the marina (breakfast of the seventh night).  If necessary due to flight times Seafari will eventually lodge clients in a 3* hotel for the final night
The following items are not included:
Transport and expenses to and from Paris
Visa (€32 per person)
Any dive equipment hire necessary (list of prices can be supplied on request)
Alcoholic beverages
Crew tip (recommended at €30 per person)
RESERVING YOUR PLACE
To confirm your place please click here to download and complete the reservation form and pay a €500 deposit directly to Mango Dreams, our travel partner.  The full balance is due 90 days before departure i.e. 17th August.