Touch and eLearning, diving theory online
The global leaders in diver education
PADI (Professional Association of Diving Instructors) is the largest diver training organization in the world. We rather like the wording on one of their marketing posters which nicely sums up their professionalism and the quality of their system. "70% of the world's surface is covered in water. 70% of the world's divers are qualified with PADI. Coincidence? We don't think so."
The PADI dive courses that we offer run right from introductory programmes through to instructor level training.
They have the largest global footprint and brand recognition for scuba diving in the world, with over 5,000 affiliated dive centres in over 180 countries. If you are PADI certified, wherever you dive in the world your PADI qualifications will be recognized and accepted.
What is Touch?
Touch is an extremely modern and up to date way of tackling the theory element of a number of PADI courses.  It is very accessible and interactive and has been specifically designed for tablet and smartphone (iOS and Android).  It exists for ReActivate, the Open Water Course, the Rescue Diver Course and the Equipment Specialty.  Interactive, rich in video, a very modern and fun learning experience.
What is eLearning?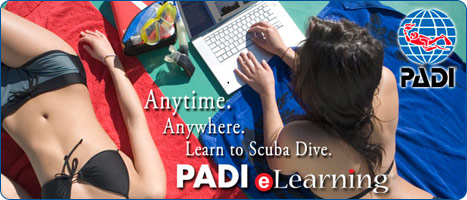 PADI eLearning is another user friendly online multi-media resource that is slightly older and designed for use with windows based computers.  It enables student divers to cover the theory sections of various PADI courses in their own time, wherever they are, as long as they have good internet access.
It uses video, images, animation, narrative and immediate feedback on quizzes to guide you through theory content in an interactive and rewarding manner.
The courses online available as of January 2016 include Open Water, Advanced, Rescue, Enriched Air (Nitrox) and Digital UW Photography (DUP) specialties, ReActivate (for those coming back after a length period of non diving), Dive Theory (for candidates preparing for Divemaster, Assistant Instructor and Open Water Scuba Instructor levels), Divemaster and the Instructor Development Course.
What are the advantages?
The ability to proceed at your own pace, whenever and wherever you like, and the possibility to start interacting immediately with your Instructor team.
For many of you suffering from increased time pressure in everyday life this is a perfect solution to making learning the theory part of diving as easy, convenient and fun as possible.  ANYTIME, ANYWHERE.
We then focus on what is important for you as a student diver on holiday, or taking time out of a busy schedule.  That is applying what you have learnt online to maximise the quality of in-water time and the wonderful weather, surroundings and diving conditions of the Cote d'Azur.