Accommodation partners chosen for value for money, location, service.
2 * Hotel "Le Provence"
17 Avenue de la Gare, 06220 Golfe Juan +33 (0)4 97 21 85 30, leprovencehotel@gmail.com, Hotel Le Provence Tripadvisor .  Website.  This simple, value for money, well located Hotel is less than 500m from Golfe Juan- Vallauris train station and an easy five minute walk from the dive centre.  It has recently undergone new ownership and Alex and Beatrice are very proactive and helpful. 
Vacation Rental "Eden Paradise"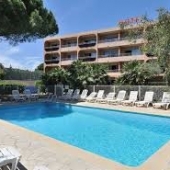 Impasse des Hameaux Beau Soleil, 06220 Golfe Juan +33(0)4 93 63 46 06, edenparadise@residhotel.com. Website. The Eden Paradise is conveniently nestled in a "cul de sac",  in a calm and relaxing environment. Located 500m from the beach, close to shops, the residence offers spacious studios with pleasant south-facing balconies, an outdoor pool, a tennis court and free parking. Studios for 2 or 4 or 2 rooms flat for 6 people. it will take you about 15-20 minutes walk to get to the dive center.
Guest at the Inn of the Bigerade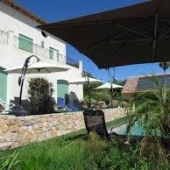 336 Montée des Peruades, 06220 Golfe-Juan, +33 (0)4 93 63 97 78,  WebSite.  This Chambre d'Hote is beautifully done but guests will need to be travelling with a car as it is a little further out of town and up a rather steep hill.
Villa Bastide and Bastidon. 
A number of different sized apartments and rooms rooms in an old Villa with Garden within east walking distance of the dive centre.  Rates very, and for more information it is best to contact Catherine Vieille by e-mail at catherine.vieille@gmail.com