The Bay of Golfe Juan is host to three main clusters or groups of dives sites, these being:
La Fourmigue,

Les Iles de Lerins

the Cap d'Antibes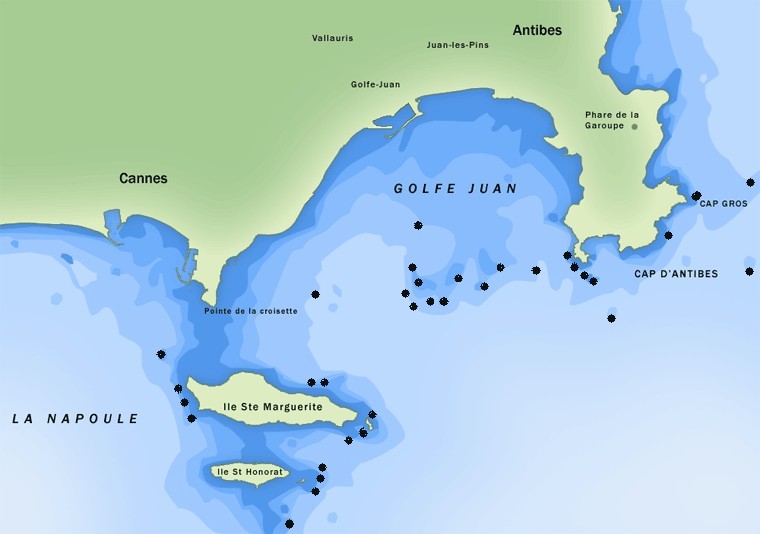 Within 15 minutes boat journey, we've got access to more than 20 Dive Sites which suit all level of divers. We are naturally protected from the wind and the wave so it's quite rare that we have to cancel the dive.
Don't hesitate to sign up to PADI SCUBA EARTH. It will allow you to log dives, share photos, find buddies, dive sites, destinations & more!.
La Fourmigue
This is a large rock formation that stretches over several hundred metres and is marked by a small lighthouse which is a notable feature of Golfe Juan. The main 3 dive site are:
The Village: This site is home to an underwater village built in the late sixties, is situated at a depth of around 15m in what amounts to an "underwater valley".
L'Enfer de Dante (named after Dante's Inferno), truly a spectacular dive site. These are a number of pinnacles which rise up to just 15m the surface and drop off to depths of 55m and beyond. This site is extremely rich in Gorgonian Fans, soft coral and schooling fish.
The Grotte de Miro (it once held a sculpture of the Goddess of the Sea by the artist Miro). In the 1980's this was replaced by a statue of Commandant Yves Le Prieur, inventor of the first self-contained regulator, and co-founder of the first ever leisure diving club in 1938 (St Raphael and Paris). The cave has three exits and is located at the bottom of the rock at about 18m. It is carpeted in colourful sponges and soft corals. The top of the rock is awesome for macro photography with multiple species of Nudibranch, Blenny and Scorpionfish in abundance.
Cap D'Antibes
The Cap D'Antibes is home to at least half a dozen sites, again all suitable to a wide range of ability levels. Some of the most known sites are:
Rascoui
Le Grand Boule
La Lauve
Les Iles de Lerins (islands in front of Cannes, iles de Saint Honorat et Sainte Marguerite)
There are at least three or four recognised dive sites to be found on the landward side of Ile de Sainte Marguerite including:
Le Vengeur"
La Tour Espagnole
La Convention
These are all wall dives ranging in depth from shallow (4m) to 40 metres and above.