Diving Full Face Mask & Accessories
Ocean Reef is the world leading brand of leisure Integrated Dive Mask (IDM) / Full Face Mask (FFM)
OCEAN REEF Diving Full Face Mask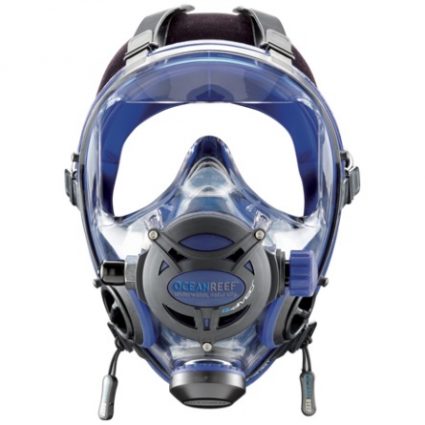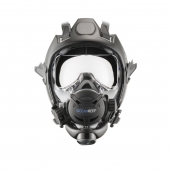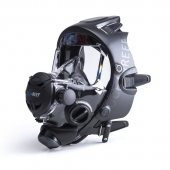 OCEAN REEF Full Face Mask Accessories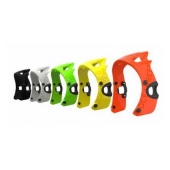 EXTENDER FRAME €70
The perfect way to customize your IDM, creating your own style. These frames offer extra surface to allow you to customise and streamline your set up.
Extender Frames are available in 5 colors. You just have to mount it on your IDMS with a click.The frame has a flat surface to support your action camera.
Colors: Black, Yellow, Orange, Green & White.
---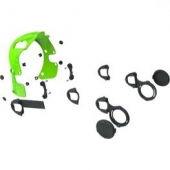 EXTENDER KIT €93
The Space Extender is ready to extend your scuba activities to whatever you want: not only can you communicate with your buddies during the dive, thanks to the MHA2 support and the new improved NACS (comm unit not included), but it's also equipped to mount up to 3 sport cameras
Colors: Black, Yellow, Orange, Green & White.
---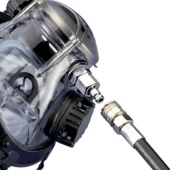 EXTRAFLEX QUICK CONNECT HOSE €110
This device allows for quick and easy connection and disconnection of the 2nd stage. Available in 32"/800mm black (code OR024998) and 48"/1200 mm yellow (OR024997)
---
G.DIVERS SURFACE AIR VALVE €39
The G.divers IDMs may be equipped with a surface air valve (SAV) that allows the diver to breathe ambient air while at the surface. Easy to assemble, it's the must have accessory. Each SAV comes with 4 colored silicone rings to match the mask color
---
OPTICAL LENS SUPPORT €29
A frame specifically designed to allow the use of standard optical lenses (not included) while snorkeling/swimming. Both lightweight and strong, the frame can be easily inserted and removed in the mask thanks to the seal side slots.
Compatible with ARIA (S/M – L/XL), SEA VU DRY snorkeling mask ( S/M – L/XL), EASY BREATH ((S/M – M/L – L/XL) and other full face snorkeling masks as well as IDMs
---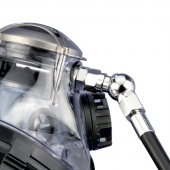 SWIVEL CONNECTION €74
Made of chromium plated brass, this device allows freer movement when attached to the second stage. The swivel connection can be used in conjunction with the quick connect hose.